Hoppipop! Online Art, Design & Creativity Bootcamp aims to bridge the gap between the technical and the creative skills necessary to develop innovative, inclusive, accessible and engaging digital products. 


Developing successful products requires the application of a wide set of specific skills, from UX Research and Design best practice, to the understanding of development systems and business models frameworks.
Art, in the broad sense of the word, helps you self-reflecting and connecting with the surrounding world, while building empathy with others. Art is about expressing yourself, finding your emotions to be universal to the human kind. Through the observation of human nature and behavior, environmental conditions and social contexts, you can develop a better understanding of human needs and emotions.
Understanding human physical and emotional needs is essential in creating valuable designs. You can develop a greater attention to details, key to reveal the core needs of the human heart and mind, while stripping reality of all the unnecessary frills.
Why did I start
Hoppipop! Online Art, Design and Creativity Bootcamp?
Empathy and attention to detail are essential when designing digital or physical products for your users.
Finally, channeling your creativity through processes and collaboration, makes you understanding the value of an idea and its feasibility. Finding solutions to specific design problems might be frustrating, but by learning how to drive your creativity can lead your thoughts toward unexpected solutions.
Connecting the dots is not always easy, but learning to use divergent and convergent thinking will help use in generating and implementing ideas for specific contexts. Re-discovering traditional storytelling and art techniques to improve your digital expertise, from facilitating design sprints and UX workshops, to creating efficient User Interface for Augmented or Virtual Reality.
Creativity takes courage.
Henry Matisse
Design shapes futures and societies: in which society do you want to live?
This is ultimately the mission of Hoppipop! Online Art & Design Bootcamp: creating a community of learners, where you can share your experience and collaborate at challenging projects with your peers.
A quiet zone, where you can reflect upon your professional goals, work-ethics and your role and responsibilities as a designer, artist and content creator. A space where you can grow your skills, while having fun and enjoying what you are doing. 
Creativity is intelligence having fun.
Albert Einstein
You can break the mental patterns that block your flow of thought.
The Online Bootcamp where to learn and apply UX/UI Design best practice, traditional and digital Art techniques, on how to channel your Creativity to solve design problems. And on how to combine them to create innovative products. You don't need to be a designer and a developer and a data scientist and... you can if you wish! But you should be able to understand what you need in order to turn your idea into the valuable product you wish to create. It is about learning how to apply processes and reflective thinking to your projects, to help you grow as a professional designer and content creator. Learning to see the strengths and weaknesses of your ideas, how to test your prototypes and learn from your research, how to find the missing factors that can turn your project into a successful product. 
Whether you are building a game or a website, you need to develop a strategic vision to help you foresee possible obstacles and opportunities, understand your users' needs and expectations, as well as the market trends, and turn all these factors into a feasible UX Strategy and layout an efficient Product Roadmap.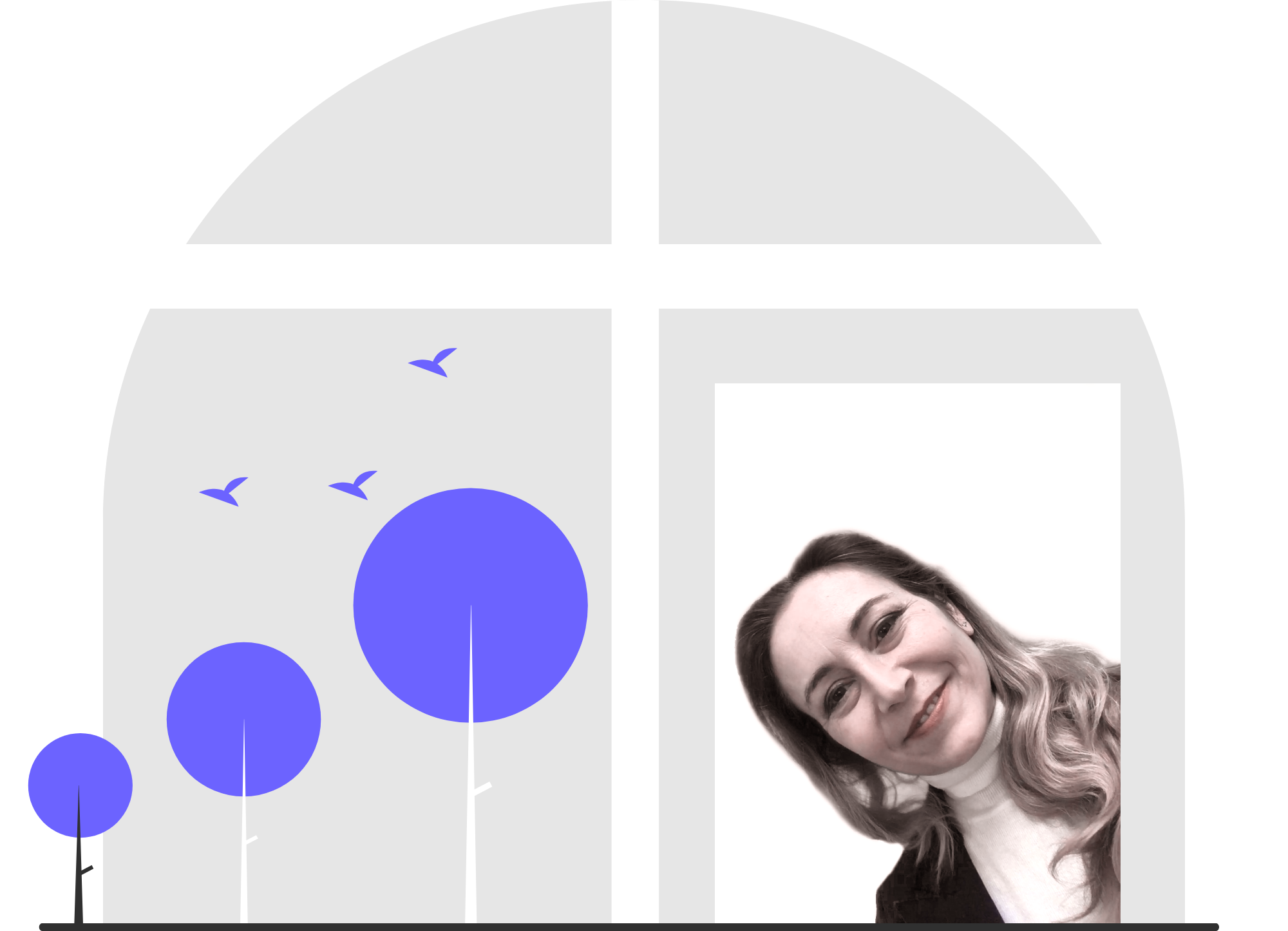 About the tutor


Hello! My name is Natalie Massone and  I am a UX/UI Design Lead, a certified trainer in the lifelong sector (RQF, L3), and the founder of Hoppipop! Studio. My background is in Fine Arts and Illustration: I enjoy Writing, Filmmaking and exploring new technologies, such as Voice, Augmented, Mixed and Virtual Reality (AR/MR /VR/360).
.
During my career, I could work from start-up to corporate environments, where I could mentor teams of designers, as well working with multidisciplinary teams across Product, Development and Marketing, improving the usability of their products and creating smoother omnichannel user experiences for their customers. In my daily work, as a consultant and designer, I focus on UX best practice to create inclusive and engaging experiences for a variety of target audiences. I like reiterative design processes: Getting-things-done and Test-and-fail-quickly, while growing a collaborative environment where users' and business needs can meet.
I run remote and onsite Design Sprints and UX workshops adapted to specific contexts, in order to support the users needs, accessibility and usability high standards, while helping stakeholders to achieve specific business goals . I am a passionate researcher and life-long learner of UX/UI Design best practice, Content & Product Strategies, Cross-media and Transmedia Storytelling. I advocate HCD, Agile and Design Thinking processes, guiding users through seamless journeys, respecting their needs and expectations, including providing the highest accessibility standards.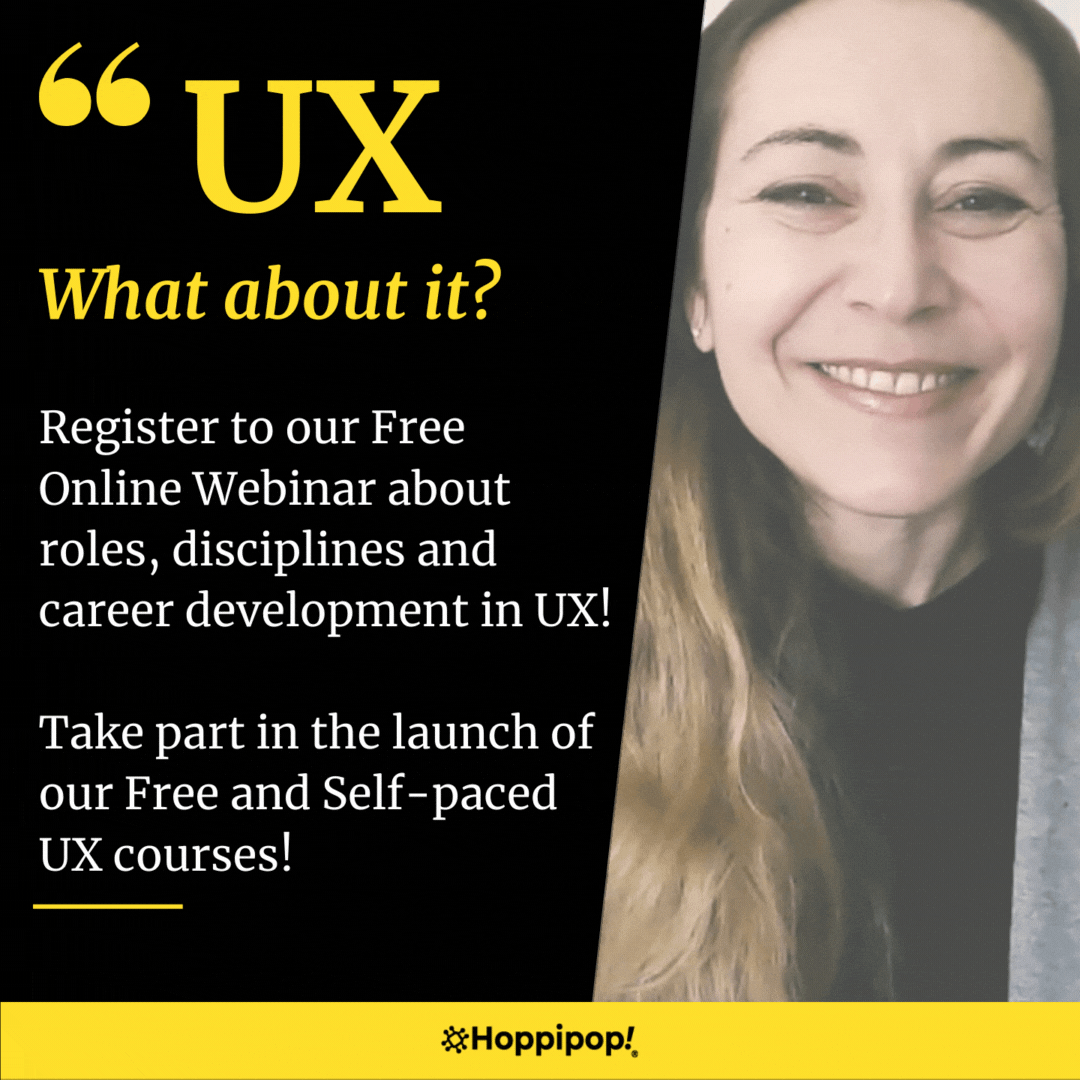 What About UX?
What About UX? - Register to attend our Free Online Webinar about roles, disciplines and career development in UX! Take part in the launch of our Free and Self-paced UX courses!

Register your interest at: https://mailchi.mp/f761973ce244/wauxfreewebinar
Check your inbox to confirm your subscription
Coaching & Mentoring Sessions
What About UX? Courses Starting soon!